It is well known that Puerto Vallarta and the Banderas Bay are popular tropical destinations and contain a wealth of sound real estate investment opportunities. The golden sand, good weather, high customer services standards, affordable health care services, strong real estate sales and development, infrastructure and amazing culture make the Banderas Bay one of the most desirable paradises to live in and invest in. Real estate sales indicators have been very positive during the last 12 month period. The bay has become a highly desirable location for both business and residential purposes. World changes in the work office setting, allowing for more remote work has fueled tourism and real estate investment in the area.
Current real estate indicators in Puerto Vallarta and the Banderas Bay show a high demand from baby boomers (1946-1964) looking for a great place to retire and real estate investors attracted to the area by the increased levels of Return of Investment (ROI). High demand of properties is reflected in a 6.75% increase in condominium average sales price from January 2022 to January 2023.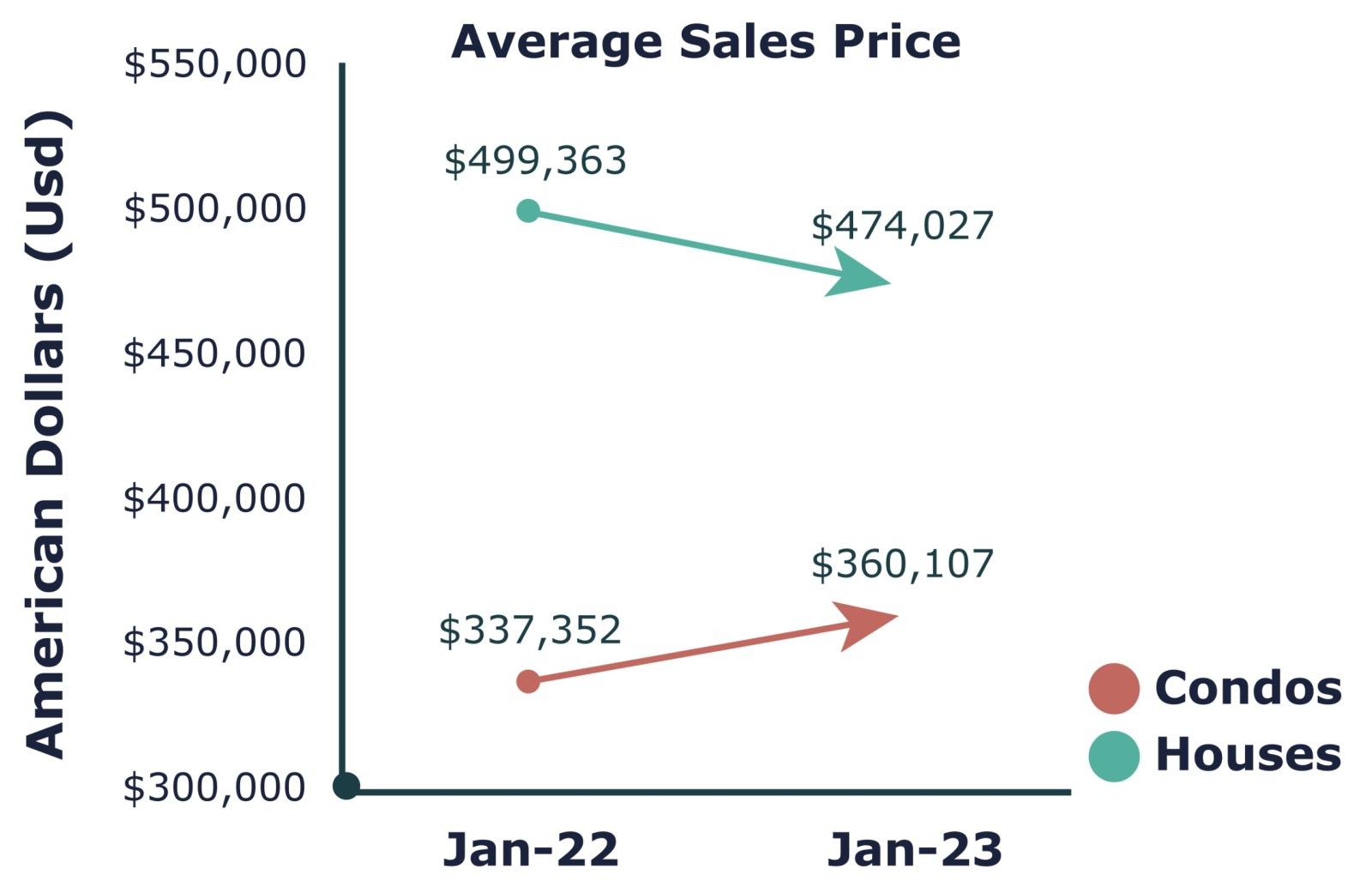 Average DOM 
(Days on the Market)
The Puerto Vallarta and Banderas Bay Real Estate Market is made up of both full-time retirees and second-home owners; as a result 95% of purchases are done without a mortgage or financing and for this reason, we experience higher Days on the Market (DOM) than metropolitan cities.
Due to the higher demand of real estate properties and more competitive asking prices, the average Days on the Market (DOM) in 2022 decreased, referenced as a 7.42% drop for condos and 8.67% drop for houses from January 2022 to January 2023.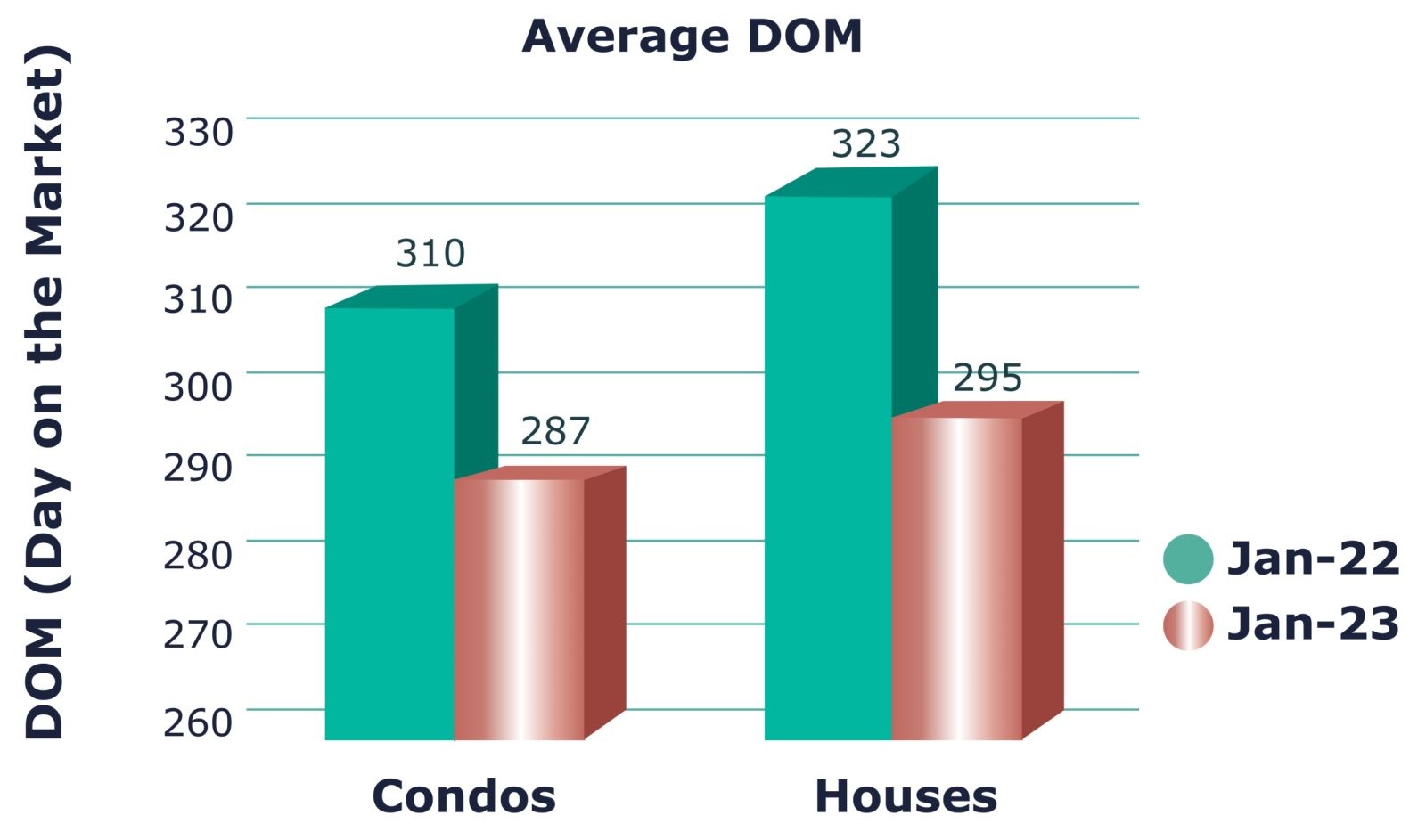 New Listings
Restricted permits for new construction and increased levels of Return of Investment (ROI) in existing construction contributed to a reduction in the number of new listings, referenced by a 29.5% drop for condos and a 17.3% drop for houses.
Sold Listings
High levels of real estate demand, competitive asking prices and high levels of Return of Investment (ROI) were determining factors that lead to an increased amount of SOLD condos to 7.3% and the historical 26.4% increase of sold houses.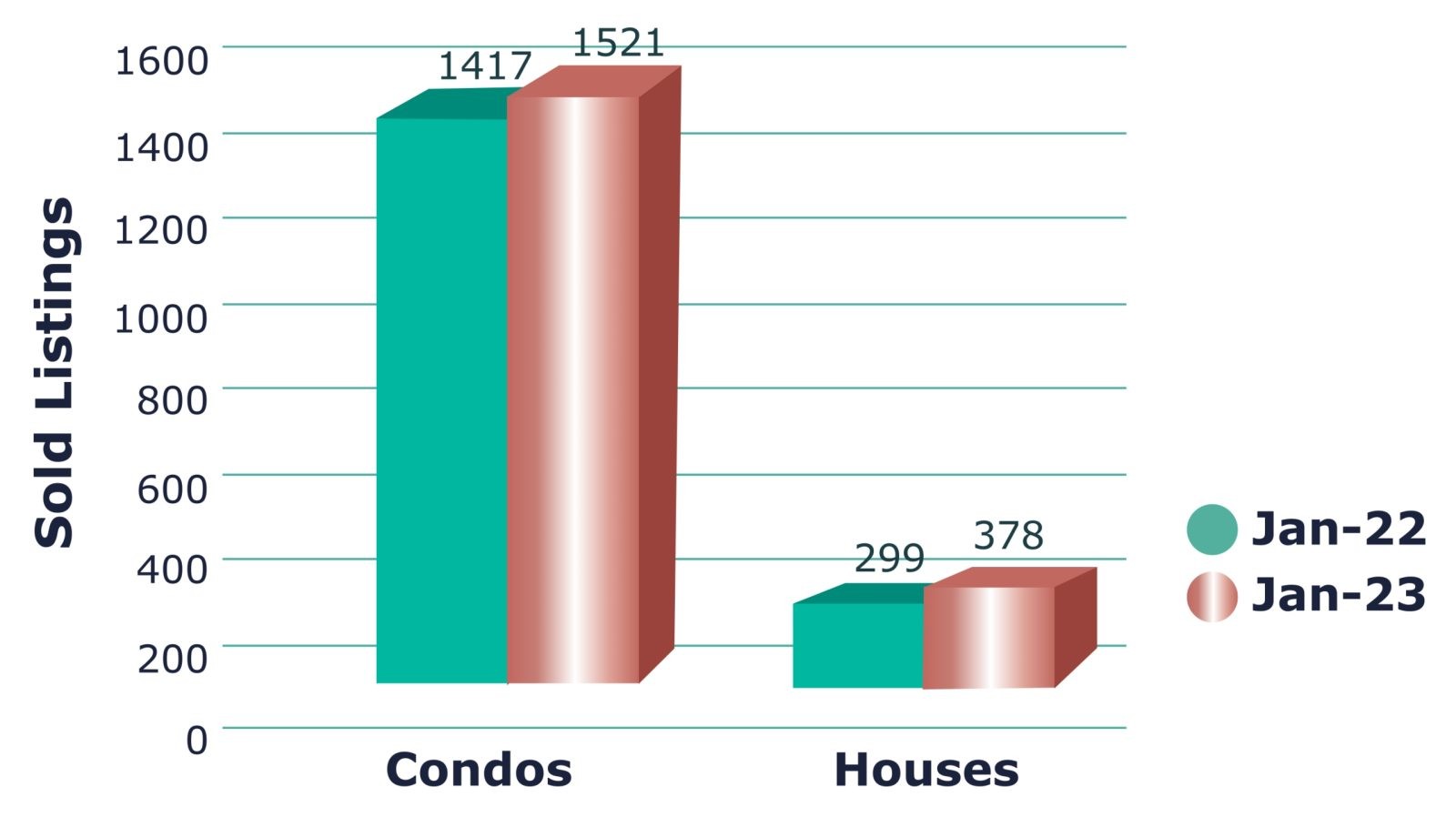 Active Listings
We are experiencing low levels of inventory, together with the fact that the housing demand is higher than the new real estate listings coming to market, as referenced in a 25.7% reduction of condos for sale and a 12.2% drop of houses for sale.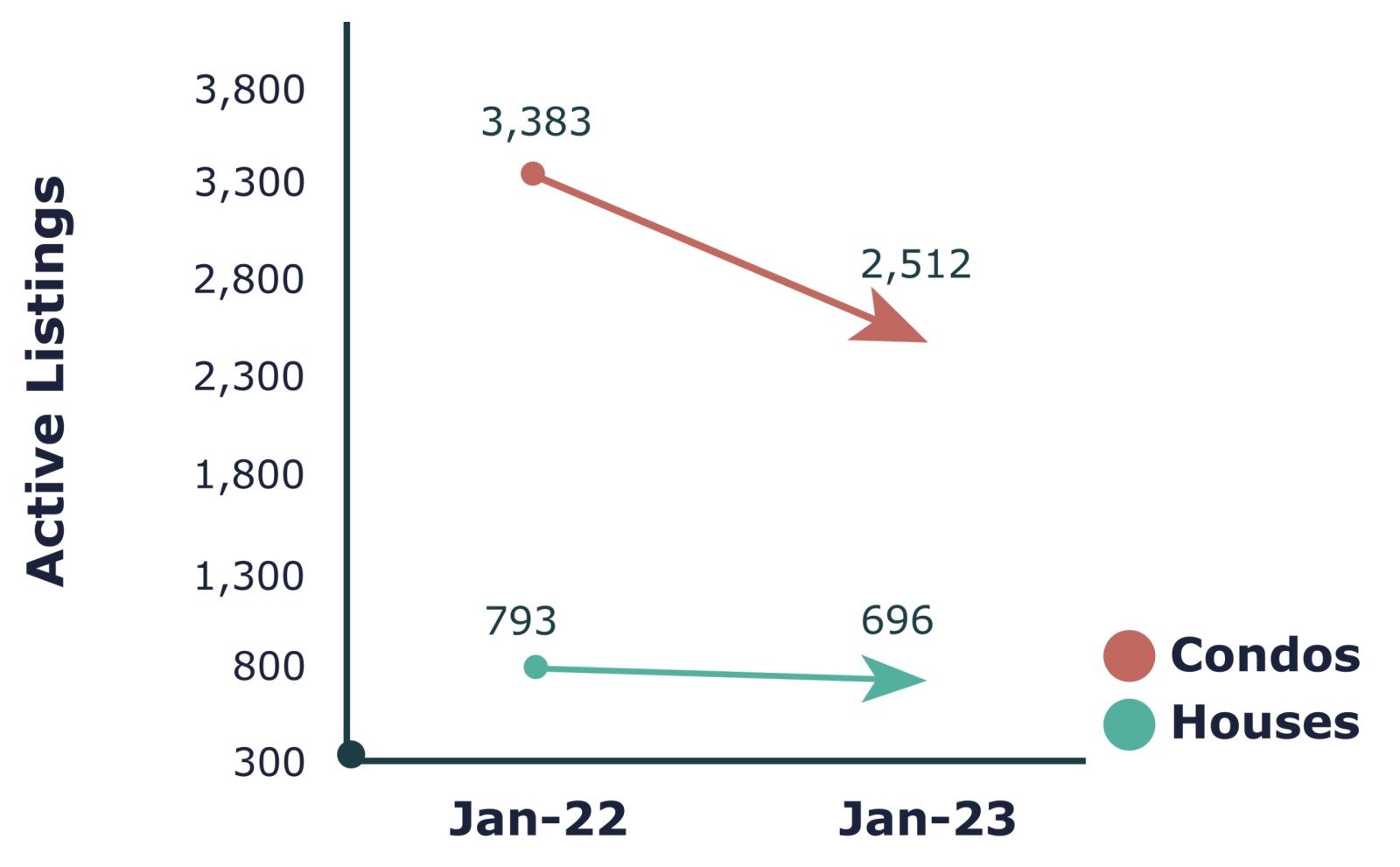 All statistics used in this Market Analysis are sourced from the Puerto Vallarta, Riviera Nayarita, and Compostela Sections of the Mexican Association of Real Estate Professionals (AMPI) Multiple Listing Service.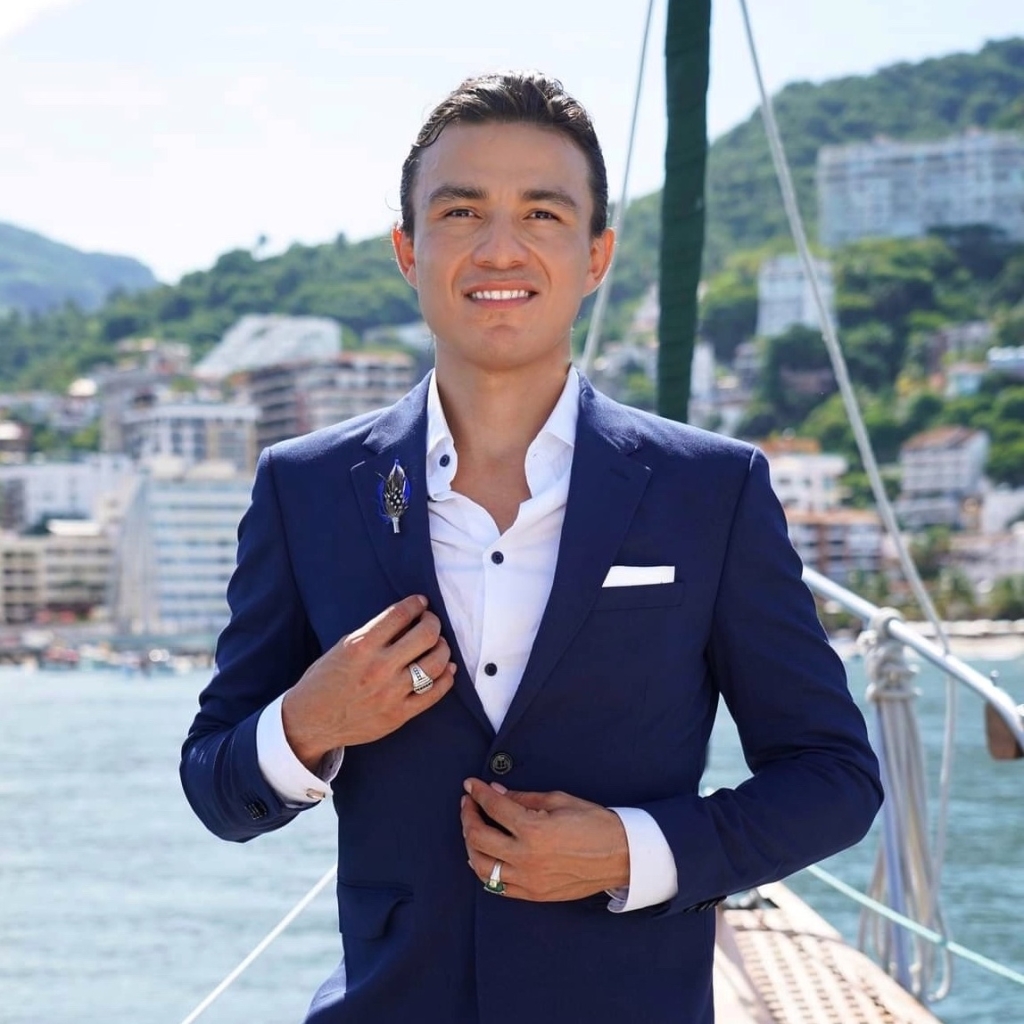 Agent License: 8449963
Service Areas: Puerto Vallarta and Banderas Bay Riviera Nayarit
Specialties: Real Estate Sales